SEO - Search Engine Optimisation
What is SEO?
Search engine optimisation is a set of techniques used to improve a websites position within SERPs (search engine results pages). Through SOS we can offer clients an ethical SEO service designed specifically for local Surrey businesses.
Why Use SOS?
SOS will equip your website with the top SEO techniques in order to improve your SERP ranking and reach more potential customers. SOS is always up to date so will dynamically change and adapt in accordance with new Search Engine policies. This will encourage relevant searches to return your website. SEO methods include:
Detailed On-site Optimisation
Search engine friendly content
Targeted location attributes
This can be seen on:
A Search for Football rebounder: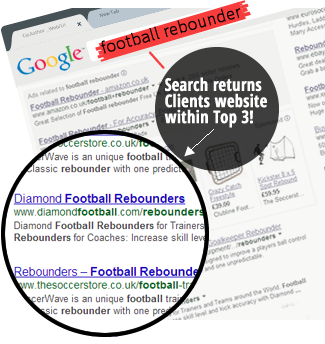 Using Google.co.uk, a search for football rebounder contains one of our clients Diamond Football within the top three results. Let us help you get in the same position from your relevant search!